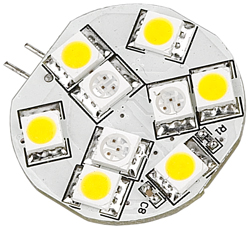 "X-Beam" Dual Color LED Replacement Bulb, Blue/Cool White, 10-30VDC (1.6W), G4 Socket
The dual color (blue/white) version of our popular "X-Beam" side-entry LED replacement bulb offers the flexibility to quickly change from cool white illumination to blue (and vice-versa). There is no need to change existing wiring and it is controlled using your existing light switch. Initially, it will illuminate BLUE so it is not blinding or disruptive for navigation. Quickly turning switch OFF/ON (within 3 seconds) changes the light to WHITE. To return to BLUE, simply switch OFF (wait 4 seconds) and turn back ON. A PWM constant-current driver, a thermally conductive aluma-core board, and high quality components guarantee long term performance. These work great for shallow spots and small recessed or surface-mount fixtures with horizontally placed G4 halogen sockets. Flexible annealed wire pins are provided to allow easier fitment into tight areas. Pins may also be snipped to desired length.
Features & Benefits:
Switchable Blue/White illumination
High output SMD LEDs
Constant-current drive topology
Over-voltage protection
No radiated heat
Thermally efficient design
Product Details
Fits Socket:
G4
Typical Applications:
Small downlight spots and fixtures
Dimensions:
31.5mm/1.24" (Diam.) x 10.00mm/3.9" (+ pins)
Input Voltage:
10-30VDC
Power (Watts):
1.6W
Current Draw:
133mA/12V
67mA/24V
LED Emitting Color:
Blue/Cool White
LED Type/Quantity:
6 x Cool White
3 x Blue
Beam Angle (FWHM):
120º
Light Output (Lumens):
83 lms (white LED)
Warranty:
2 Years
Weight:
0.015 lbs.